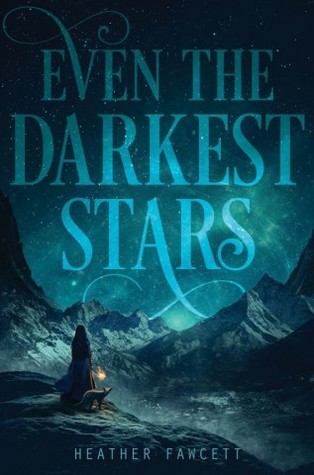 Title: Even the Darkest Stars
Author: Heather Fawcett
Publisher: Harper Collins
Page Count: 304
Genre: YA Fantasy
Review:
This book was high on my expectations list, and did not disappoint. The cover fit extremely well with the story, which made me happy. I loved the dark blue cover of the book, and the title, which was initially what made me snag this book from the library. I now want to buy my own copy at some point in the future, it was that good. My only complaint was that it left off at a cliffhanger (readers of this book might groan at the obvious pun).
This book had it all-pet foxes as familiars, witches, demons, dragons, mountain climbing in dangerous terrain, and searching for an item as a means of a quest. The characters were driven, each in their own way, towards their own goals. You didn't know who to trust, who to believe in when they had their scenes. Although I think my favorite scene was imagining baby dragons heading towards Chirri's cabin.
Magic was complex, there was history of their world, and the Nightwood was a fascinating topic that I wished was discussed more often, because it contained witches who had a long time grudge against the human empire from blocking them off from the rest of the world. There was also ghosts in this book, which was a startling surprise, and there were explorers…
I just loved this book so much.
The author drew me in slowly, and built up until I had reached the very end. I knew that their situation wouldn't be resolved when I had fifty pages left, and by the time I hit fifteen pages before the end of the book I realized that this was going to be one of those authors whose books I would snap up in a heartbeat in the future. She writes as though everything is desperate, the characters are at deaths' door, there's no more choices left…
And it's exciting reading, full of adventure, magic, and mystery. There's Lusha with her ravens, and poor Aimo, and River, and Ragtooth, and all of the characters I just loved to pieces. The story was epic, the book lived up to its expectations, and I couldn't ask for more-but I am. I want book two. I want it now. Please don't tell me that this is how the story ends, because if that's the case, then that's a terribly sad ending.
Overall, I give this book five stars. It was worth the wait, and I'm glad that this is still helping me out of my reading slump as well.
Go, read the book. I'll wait.
Until then,
Pass Me That Book!